The international association of bookplate artists & collectors since 1922!! Celebrating 575 years of pride in book ownership.
---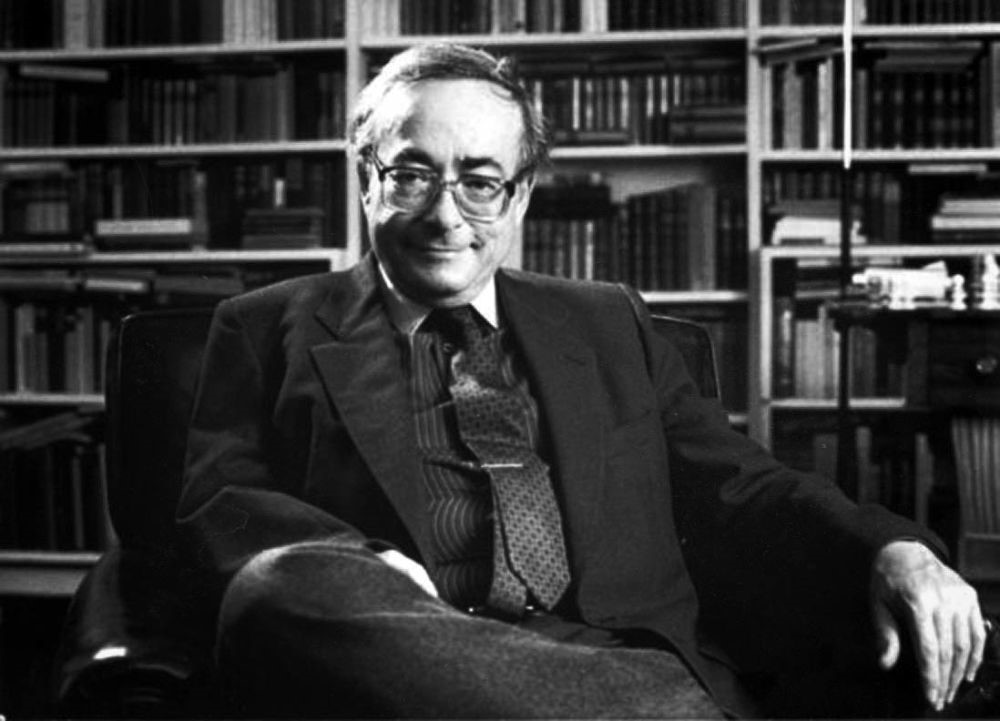 A Tribute to George Steiner Bookplate Competition
"My father loved poetry and music. But deep in himself he thought teaching the finest thing a person could do."
Victoria University of Wellington, New Zealand and the American Society of Bookplate Collectors & Designers (ASBC&D) take pleasure in announcing "A Tribute to George Steiner Bookplate Competition 2019-2020".
We hope that you are healthy & safe! The COVID-19 pandemic has changed our lives and certainly changed our Tribute to George Steiner. We have received numerous requests from printmakers around the world to extend the competition deadline.  Many countries imposed "shelter-in-place" restrictions to halt the spread of coronavirus. This made it impossible to buy paper & supplies, get to workshops, printers were closed, etc. To address this issue, we must be flexible.  So we have extended the deadline to October 15th, 2020!  All entries must be "postmarked" by this date. We invite artists to participate in this important international competition and exhibition to honor this great man of letters. 
By now you've all heard the very sad news that George Steiner passed away on February 3rd, 2020 (1929-2020). Our Bookplate Competition serves as a tribute to this great man of letters. For his family. For his friends. For his followers.
We invite the finest artists in the world to celebrate George Steiner for his work, his vision, his books through a personal Ex Libris.
George Steiner is the person for whom designers will prepare the Ex Libris prints. He was one of the most influential intellectuals of our time — a widely published author and lover of the word and of books.
Please consider utilizing verse from Steiner's poetry or the theme from one of the many books he's written. Your concept might include his childhood as a survivor or his life as poet, author, scholar, teacher, and lecturer. Capture the essence of George Steiner making references to his love of music and links to Jewish History and Culture.
Now everyone has more creative time to design a superb ex libris for the Tribute to George Steiner (1929-2020). You cannot lose! The outcomes include: cash prizes, international "live" and online exhibitions, articles, and a book will come out in 2021.
Dr. George Steiner was born in Paris, France on April 23rd, 1929. He was a French-American literary critic, essayist, novelist, philosopher, and educator. He has written for The New Yorker for over thirty years, contributing over two hundred reviews. Among his many awards, he received The Truman Capote Lifetime Achievement Award from Stanford University 1998. He lived in Cambridge, England, with his wife, Zara Shakow Steiner.
Steiner's formal education began in Paris. During World War II, Steiner's father relocated his family to New York City in 1940 and within a month of their move, the Nazis occupied Paris. This made Steiner feel like a survivor, which profoundly influenced his later writings. He spent the rest of his school years at the Lycée Français de New York in Manhattan, and became a United States citizen in 1944.
After finishing high school, Steiner went to the University of Chicago, where he studied literature, mathematics, and physics, earning his B.A. degree in 1948. This was followed by an M.A. from Harvard University in 1950, where he won the Bell Prize in American Literature. He went on to receive his Ph.D. from Oxford University (Balliol College) on a Rhodes Scholarship in 1955. He was then a scholar at the Institute for Advanced Study at Princeton University in New Jersey for two years. He became a founding fellow of Churchill College at the University of Cambridge in 1961, and has been an Extraordinary Fellow there since 1969. Additionally, Steiner was a Professor of English and Comparative Literature at the University of Geneva from 1974-1994.
Among his admirers, Steiner was ranked "among the great minds of the literary world."
For further information, there are seven links below about George Steiner and an ideal starting point for designers:
New York Times – George Steiner, Prodigious Literary Critic… https://www.nytimes.com/2020/02/03/books/george-steiner-dead.html

History of Literacy, York Universty, Toronto, Canada (2002) https://www.youtube.com/watch?v=EH0MXdeGwSE (Full lecture)
POSTSCRIPT: The Seriousness of George Steiner – Adam Gopnik's article for the "New Yorker" magazine.
https://docs.google.com/document/d/1ckjWh8hhatsf04DbGCxoz-iM4wFE97qrvD27nBXwyHI/edit?usp=sharing
George Steiner on Wikipedia
https://en.wikipedia.org/wiki/George_Steiner
George Steiner | Biography, Books, & Facts | Britannica.com
https://www.britannica.com/biography/George-Steiner
Professor George Steiner – Literature
https://literature.britishcouncil.org/writer/george-steiner
Paris Review – George Steiner, The Art of Criticism No. 2
https://www.theparisreview.org/interviews/1506/george-steiner-the-art-of-criticism-no-2-george-steiner
Competition Rules
1) The Competition is open to all artists. Participation is free of charge. Simply include your email address, physical mailing address, CV, personal statement, techniques used, and a photo portrait. We may use this information in future publications and on our website.
2) Only entries made utilizing techniques approved by FISAE for original graphic art prints will be accepted for the Competition.
3) The Ex Libris entries will have the following characteristics: Your bookplate will be designed for George Steiner. Must represent the "theme" of the Competition.
There are no restrictions on size. Any size that you are comfortable with.
No indications or markings of other competitions must be present.
The following must be written in pencil on the reverse side: surname, first name, email (if available), and the address of the artist. The dimensions of the image area and technique used.
Written in pencil in the lower margin under the image on the front of your print(s), please include the edition title, number, date, and initials, signature, and/or trademark (stamp).
Entries must be designed for "George Steiner" and image content may include books, articles, or prose that he has written. Image may include lectures he has presented or places he has taught, studied, or lived.
Only entries with the above requisites will be evaluated for the Competition. All those missing one or more of these requisites will not be considered.
Each artist may submit a maximum of four entries, each of which must have at least four (4) signed copies. Three copies will be held in the ASBC&D library collection and used for exhibitions, one in the Victoria University of Wellington, New Zealand collection. The exhibitions will present the artists' work to a wide international audience.
All Ex Libris prints will be used for exhibition and publication by the institutions. Simultaneously, we are planning an exhibition at Victoria University in 2021, a travelling exhibition in the USA 2021, and an exhibition at FISAE: San Francisco 2022. Entries will not be returned.
Victoria University has designated one grand prize to the value of $1.000.00 USD. The ASBC&D will award second and third prizes.  Second prize of $750.00 USD and third prize of $500.00 USD.  The entries, once accepted by the Jury, will be selected for publication in the Catalog.
The winners will be announced at the end of November 2020 and prizes awarded at this time. Until this day all the artists will be strictly forbidden to publish or post on the web or social networks the works sent for the competition, under the penalty of being excluded from the competition.
The bookplate entries must be sent via Registered Mail or Priority Mail (with tracking) by 15 October 2020 to the following address. Entries must be "postmarked" by October 15th, 2020:
ASBC&D, P.O. Box 14964, Tucson, AZ, USA, 85732-4964
Artists of entries published in the Catalog will receive the edition free of charge. At least 100 works will be reproduced in the catalog. All the other artists will receive an electronic file with the works admitted to the competition.
Participation in the Competition implies full acceptance of the above rules.
For further information, please contact: info@bookplate.org